"It's not Mitsubishi, not York, not Generac…if we touch it, it's Putney Mechanical."
Our clients include private homes, churches, schools, restaurants, recreational facilities, and government buildings. We pride ourselves on our reliable, high-quality, and trustworthy employees. Many of our experienced installers and service technicians have been with us for decades and are known personally by our clients.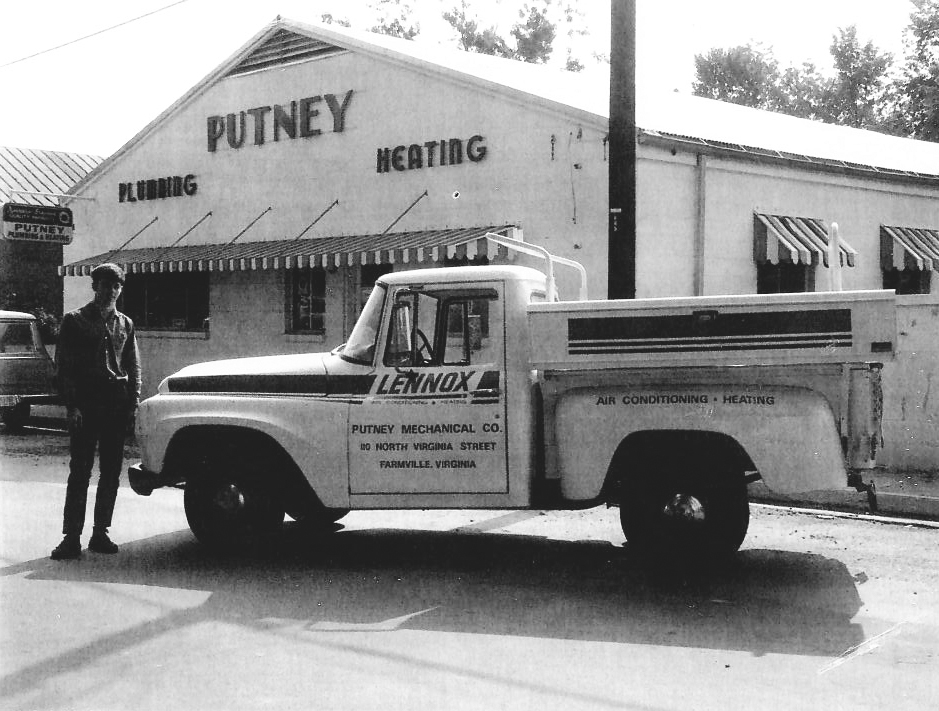 Founded by Waverly Putney in 1947, Putney Mechanical started as a heating and air company focusing on oil-fired boilers and hot water heat. But as the industry advanced and became more sophisticated, so did Putney Mechanical, expanding to service today's industry advances including heat pumps, generators, and mini-splits. 
Upon Putney's retirement in 1981, current owner Parker Terry joined with Putney's son-in-law, Joe Zehner, to purchase the company. When Zehner, too, retired in 2019, Terry took the helm. With the enthusiasm and dedication of its vice president of operations Ed Aubin, Putney is now serving more clients than ever in its history.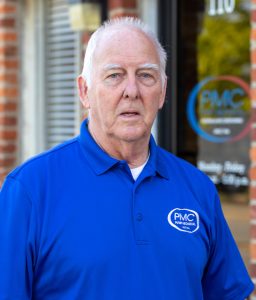 Parker is a Farmville native and is well known and respected by the community. A graduate of the University of Richmond Business School, Parker has spent more than 40 years growing Putney into a highly regarded community establishment. Parker has been committed to the Farmville community his entire adult life, having served the YMCA, Farmville Baptist Church and numerous other organizations.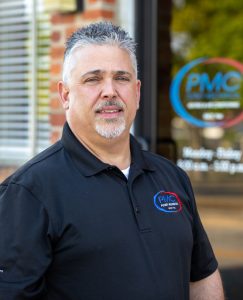 Ed Aubin joined the Putney team in 1991 and soon became the company's main service technician. In the decades since, he played many roles and now oversees corporate sales and contracts.  Under his guidance Putney has seen its business — and number of satisfied clients — more than double. Exemplifying Putney Mechanical's family-oriented culture, Aubin's son, David, joined Putney in 2004.
Aubin's focus on quality service has cultivated a team of good people who treat customers' homes with respect.
"It's a small community," Aubin said. "People remember you. Whether we work on a $10,000 home or a $10 million home, we treat it the same."
"Superb in every aspect, making it a pleasurable experience."
Dr. Charles W. of Farmville, VA
"The guidance from the beginning of the process to the completion of the project was outstanding."
Mr. & Mrs. Terry M. of Farmville, VA
"Can't say enough. Excellent customer service from beginning to end. Should be a standard for all service companies."
John S. of Rice, VA
"Their crews were pleasant, polite and extremely knowledgeable of their respective trades. We would highly recommend them for any future projects."
Dave K. of Mineral, Va.
"Putney Mechanical is trustworthy. They explained everything to me and were upfront when repairs needed to be made. They are very client-focused, care about the individual customer, and always respond in a very timely manner."
"I have used Putney Mechanical for several projects at my home. The bill is always the same as the estimate. Ed has always been able to make suggestions that would better align with the project or be more cost-effective."
Susan G of Louisa, VA
"Being a retired mechanical contractor, I believe I can recognize A+ quality and an honest company when I encounter one. This is why we go to Putney Mechanical for our HVAC needs."
Marty R. of Farmville, Va.
"I live in a house almost 100 years old, and it needs all the help & care it can get. Putney Mechanical Company is always there to provide it."
Dr. Jim Jordan of Farmville
"I have several rental units in Meherrin, and signing up for Putney's preventive maintenance program is the smartest thing I have ever done. One less thing to worry about, I know it's done right, and no complaints from tenants."
Martha T. of Meherrin
"When we built our new home , we told our builder we prefer Putney to do all of our mechanical work. They did an outstanding job at a fair price for all of our electrical, plumbing, and HVAC needs. We highly recommend them."
Jeff & Kimberly R. of Charlotte County, Va.
"Putney has provided outstanding service & support on all of our systems since they were installed. They are exceptional at responding & have quickly resolved any issues and problems we have had with our heat, generator, and water heater."
Tom L. of Powhatan
"Putney Mechanical provides prompt, efficient and reliable service for our commercial and residential needs. Their technicians are professional, friendly and, most of all, knowledgeable."
Johnny & Melanie H. of Farmville
"Putney Mechanical installed 2 new HVAC units at our home. Tyler and his team were professional and completed the work as promised. We are very impressed with their work. Thank you, Putney!"
Chris & Marianne W. of Powhatan
"Putney is a great company to deal with! Fast & reliable repairs with extended hours."
Caryn Kayton, Caryn's Bridals, Formals & Tuxedos (CBK Properties)
"Putney Mechanical has been installing all of our HVAC units for many years. They are always very professional, prompt, and the quality of their products is top-notch. Their customer service is second to none."
T&K Homes, LLC.